I am starting to come around to this cooler weather.
I love those stay at home days with my little lovelies.
When it's too chilly to brave the outdoors.
We stay cosy in our jarmies for the entire day.
We play, we read, we do some crafty things.
We do whatever we please.
I love it.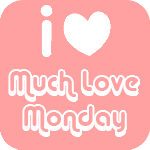 What are you loving this monday?